Liquid Coating Plants
We are Manufacturer, Supplier and Exporter of Liquid Coating Plants, Liquid Painting Booth, Paint Curing Ovens, Spray Painting Booths and our setup is situated in Pune, Maharashtra, India.
Liquid Painting Booth
1. DIP PAINTING TANK : Conveyor carries the article through tank for a required time. Article get paint coated and then cured in paint curing oven.

2. SPRAY PAINTING BOOTH :

• DRY BOOTH :
Dry Booth is recommended where the painting quantum of work is low or the components are of very small sizes. In this booth mechanical filter or paper filter can be use. Mechanical filter can be cleaned & reused. Paper filter are replaceable for medium size of article or overhead conveyor.

• SIDE DRAFT WATER-WALL TYPE :
The booth consists of MS/SS panel enclosure. Constant flow, water wall is provided at the back side of the article. While spray painting, the overspread paint flows downward with water. In the washing chamber, air suction draft is maintained from the side of the booth. The operator stands outside the booth while painting. The application of this booth is for conveyorised and batch type plants.

• DOWNDRAFT WATER WALL TYPE :
This booth is having air suction draft from the top to the bottom of the booth. Constant flow water wall is provided at the bottom of the booth. The overspread paint flows with the water in the washing chamber. Application of this booth is for heavy articles. The operator walks inside the booth around the article for painting

DIP PAINTING TANK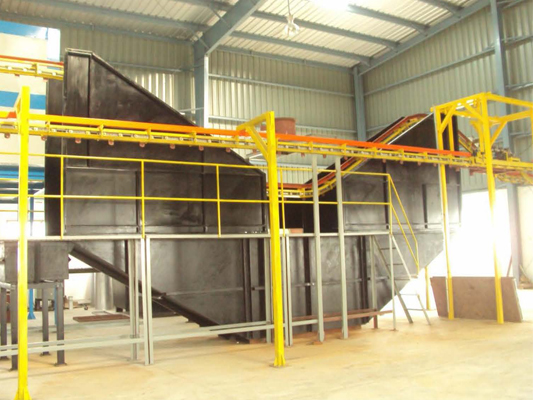 SPRAY PAINTING BOOTH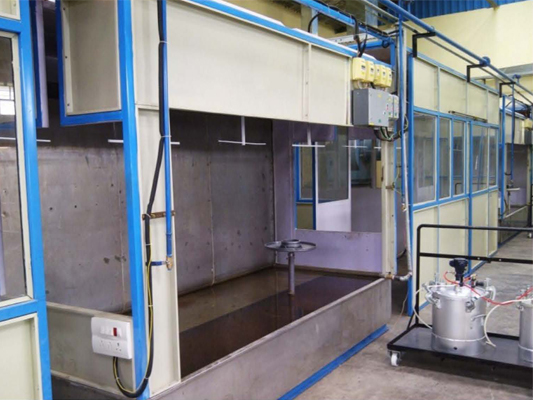 ---
Paint Curing Oven
• PAINT CURING OVEN
The enclosed insulated chamber is provided with air circulating blowers & heating system.
The air is circulated in the chamber to increase & distribute even temperature in all over area.
Solvent evaporation exhaust system is provided to maintain solvent LEL level.
There are various kinds of oven, which includes the following.

1. BATCH TYPE OVEN
Provided trolley arrangement & doors.
The paint coated articles are loaded on the trolley.
The trolley is push inside the oven.
After backing schedule, doors are opened & trolley is taken out.
2. CONVEYORISED CONVENTIONAL OVEN
In an enclosed insulated chamber the conveyor carries article in the chamber,
The article travels for decided time to get paint cured & conveyor brings the article continuously from the oven.
3. CONVEYORISED CAMEL BACK OVEN
In this oven all working is same as per conveyorised conventional oven.
The article entry & exit is Provided with cutout which is parallel to the ground to avoid heat loss.

Conveyorised Conventional Oven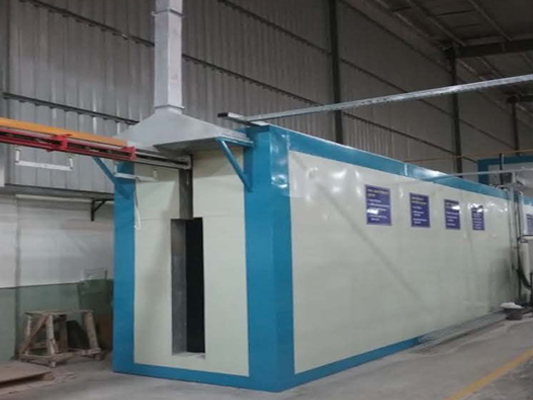 Conveyorised Camel Back Oven